It is situated in a very strategic position, in fact it stands in front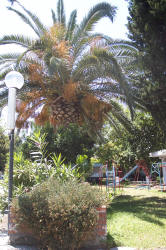 of the sea on the Ionic Coast at the foot of Etna Park, between Acireale and Taormina. The camping La Zagara may be defined as a green oasis with its extension of 15,000 kilometres square full of different kinds of trees, from the citrus trees, that inebriate you with their scent of Zagara, to the forest trees (walnut trees, poplars, trundi, etc) that, with their luxuriant vegetation, will give you a pleasant relief from the summer heat.
The Camping La Za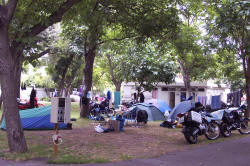 gara offers a full range of facilities to suit every requirement. It has, besides different kinds of bungalows, play park, restaurant, pizzeria, bar with foodstuffs shop, Equipped Beach with swimming-pool for children and camper service. Moreover, the members of the Camping La Zagara are able to organise trips and excursions with a wide choice of itineraries which will suit all requirements of holiday makers.
Strewn in various spots of the camping, there are gas- cooking, hot showers, toilets, and the plugs for the electricity.